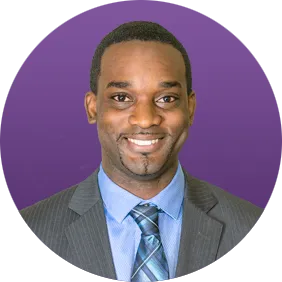 Dr. Nere Onosode DPM, FACFAS FASPS
Click here for Dr. Onosode's CV
Dr. Onosode is the founder of ANADEL Center for Foot & Ankle Reconstruction a comprehensive lower extremity clinic in the Dallas metropolis where he has practiced for the last 5 years. He has a special interest in arthritis management, lower extremity sports injuries, diabetic limb salvage and trauma of the foot and ankle. He currently serves as the team Foot and Ankle Surgeon for the Texas Revolution a professional arena football team in the Dallas metro and also for the Dallas Rattlers of Major League Lacrosse.

He is a Diplomate of the American Board of Foot and Ankle Surgery, a Fellow of the American College of Foot and Ankle surgeons and a Fellow of the American Society of Podiatric Surgeons. He is Board-certified by the American Board of Foot and Ankle Surgery in both Foot and Reconstructive Rear-Foot and Ankle surgery. Dr. Onosode also served as the immediate past chairman of the department of Podiatric Surgery at Texas Health Presbyterian Hospital in Dallas. Prior to his move to Texas, he practiced as an assistant clinical professor of orthopedics at the University Of Louisville School Of Medicine.
Expertise
Dr. Onosode is a founding member of the American Society of Podiatric Surgeons and is a member of the American College of Foot and Ankle Surgeons, the American Podiatric Medical Association and the Texas Podiatric Medical Association. He is on the editorial board of Endocrine Web, the premier multi-disciplinary site addressing endocrine disorders.
Dr. Onosode is happily married to his wife Nnenna Onosode Pharm D., a Pharmacist in Frisco and they are blessed with two delightful sons. Together they are actively involved in their church and in the community at large. As a family they enjoy travelling, biking and photography.
---
Ms. Bettenia Jackson
Physician Liaison
Ms. Jackson has a passion for our patient community and has always been strongly grounded in her love for serving others. As a driven physician liaison for Anadel Center for Foot & Ankle Reconstruction, she prides herself in ensuring that all our patients receive excellent care with a goal of establishing continuity of care to our referring Physicians and staff.
Prior to her role as Physician Liaison, she worked in medical sales for 12+ years, with a focus on fostering patient centered relationships based on trust and expertise.
Ms. Jackson holds a B.A. in Business Administration. She is licensed realtor and outside of real estate, she is active within the community including having been a member of the Alpha Kappa Alpha Association, Inc. (1999) and served as a charter board member of the National Sales Network, Nashville TN Chapter (2008-2010). Besides living a vegetarian lifestyle, she also enjoys working out, cooking, and listening to live music whenever she is free.